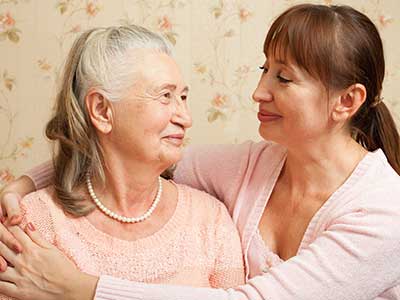 Caring for Someone with Dementia or Alzheimer's
Seniors and patients with Alzheimer's disease and dementia require a very individualized level of care.  As memory loss progresses, the care of the dementia patient must be adjusted. Keeping your loved-one in their familiar surrounding for as long as possible can help with the transition, but skilled care may be required.  HDE Home Care has skilled caregivers trained in providing assistance to patients struggling with dementia and Alzheimer's.
Personal Care Services
The process begins with an in-home interview to assess the progression of memory loss.  We also evaluate the living arrangements, medication requirements, and basic home safety measures to develop a plan of care for your loved one. Our services range from companion services to skilled caregiver services.
Assisted Living for Dementia Patients
Our memory caregivers help your loved one continue living in their home by providing help with errands, taking medication, transportation to and from doctor appointments, general home cleaning, preparing meals and seeing to proper nutrition, and personal companionship.  Our goal is to keep our patients safe and engaged in the world and life around them as that is proven to help delay the most severe effects of memory loss.
Home Care Needs through the Progression of the Disease
People with Alzheimer's disease and dementia have different needs, with these needs changing and evolving as one progresses through the stages of the disease. With Alzheimer's, there are three stages: early-stage, middle-stage, and late-stage.
Early Stage
In early-stage Alzheimer's (typically lasts 2-4 years), one is generally still very independent and requires minimal supervision or outside care beyond what a family can offer. Often, an individual can still drive, attend social events, and is still able to perform all daily living activities, from dressing oneself to cleaning the home to cooking. In this stage, one may forget common words and need simple reminders to assist with memory. One may also need assistance with medication management, organization, money management, remembering and keeping appointments, and developing coping strategies to maintain independence. During this stage of Alzheimer's, it's important to make care plans for the future while the person is able to communicate their wishes
Middle Stage
During middle-stage Alzheimer's (typically lasts 2-10 years), one requires more care than does someone in the early-stage of the disease. One's memory is greatly affected and one may not recognize familiar faces or he/she may become lost in an area in which they know. Behavior and mood may be erratic, displays of aggression and uninhibitedness might be seen, and one's ability to reason is not normal. Also, individuals often demonstrate difficulty with physical movements and coordination. During this stage, Alzheimer's patients may require assistance with activities of daily living, such as dressing and feeding oneself. They may also need reminders, such as what is appropriate clothing for the season. It is important that an individual with dementia follow a structured schedule during this stage, which can aid in diminishing feelings of stress and anxiety, which is commonly associated with dementia. For instance, one may get up the same time each morning, eat breakfast at the same time each day, and so forth. Consistency with caregivers will likely be very beneficial.
Late Stage
During late-stage Alzheimer's (typically lasts 1-3 or more years), an individual will require intensive care 24-hours/day. One will exhibit extreme confusion, both in regards to past events and present circumstances. The ability to process information ceases to exist and the individual will have a very difficult time communicating verbally, if they are able to do so at all. Behavior and mood is unpredictable and one may even experience hallucinations and delusions. Commonly, an individual with Alzheimer's who does not have 24 hour care at thome will need to move to a facility, such as a Memory Care Unit (if they haven't already done so), in order to receive the extensive care that is needed.
Getting Started & Learning More
Call us today to schedule a free in-home consultation to evaluate your situation.